Meet our Falconry Team
Please let us introduce you to some of our falconry team; our feathered friends.
Gus: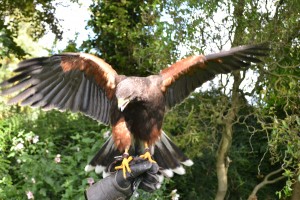 Gus is a male Harris Hawk, who has been with us since 16 weeks old. He loves nothing more than being in full flight and doing his work. He made his media debut on the 14th of August 2015 as he was featured in many national news outlets detailing how the Croke Park Stadium were addressing their  feral pigeon problems- read article here.
Alfie: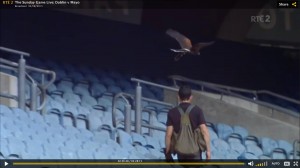 Alfie is a male Harris Hawk the oldest in our team at the ripe old age of 6. Alfie made his media debut on the Sunday Game on the 30th of August 2015.
Here he is pictured flying and returning to the falconer within the Croke Park Stadium in order to deter feral pigeons from landing.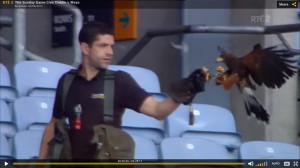 Lenny: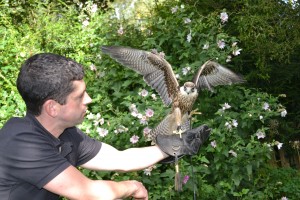 Lenny is a male lanner falcon who we have trained since 3 months. Lenny is different to the Harris Hawks as he can fly much higher and faster. Poor Lenny hasn't had any media coverage to date, maybe he's just too fast for them!
All Birds of Prey are unique and have their own little personalities. They area a valuable part of our team and we treat them as such with high range equipment and a high standards of animal husbandry.  Training and working with them takes a lot of commitment and this ensures that our birds are effective for the use in Wildlife Management. For further information on our falconry service please click here.
Please note that all of our birds are fully licensed under the National Parks and Wildlife Service.