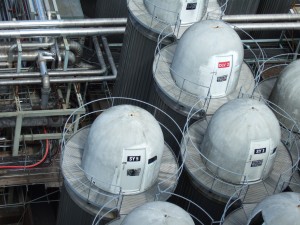 Wildlife Management Services cater our services to suit the intricacies of many different industries. We have been delivering services within the food & drinks industry for the last ten years.
Problems:
The food industry consists of various different types of buildings and centres such as warehouses, food processing plants, breweries, grain merchants, organic food producers and catering facilities. Two problems present themselves within this industry, one is that some of the buildings have a requirement to be left open at times due to stock/staff entering and exiting the buildings, particularly at loading bays, providing a natural access for birds. The second is that buildings can be architecturally conducive to birds, as ledges provide natural perching areas, ridges and valleys also provide sheltered areas for nesting and roosting. The nature of this industry is that whilst the buildings provide shelter they are also particularly attractive as they provide a source of food. Generally the main species causing problems would be pigeons and starlings. Sea gulls can also cause problems in coastal areas particularly due to the availability of food.
Bird droppings cause's serious health and safety hazards. As a food/drinks producer you know that contamination of your product is a serious problem. Birds carry disease organisms such as Salmonella, Escherichia coli, Campylobacter jejuni, Lysteria monocytogenes, Vibrio cholera. Evidently any contamination would lead to loss of stock, loss of earnings, prosecution and a damaged reputation. Food and drinks producers are legally obliged to provide a clean and safe working environment and we in Wildlife Management Services can help you achieve the highest quality standards.
Solutions:
If these wildlife or other species are currently causing a problem in your facility we would suggest that you call us to hear more about the solutions that we would recommend:
Bird Proofing   Infestation Removal    Habitat Management    Falconry Service    Distress Call System
Contact us now 087 6410206 or 057 8623042 for advice and a no obligation survey of your site.